2007 International Bamboo Building Design Competition
Pavilions, Conference Centers, Roof Structures
Architects: Marek Keppl & Toma Korec
Using the parabolic curve and bamboo's natural flexibility, these designers have created a lightweight structure and a pleasant, light filled environment for people to gather. Rainwater runs down the outside surface of the membrane on the conic cylinders and into retaining canals in the foundation.
Folding bamboo houses to provide shelter after nature strikes: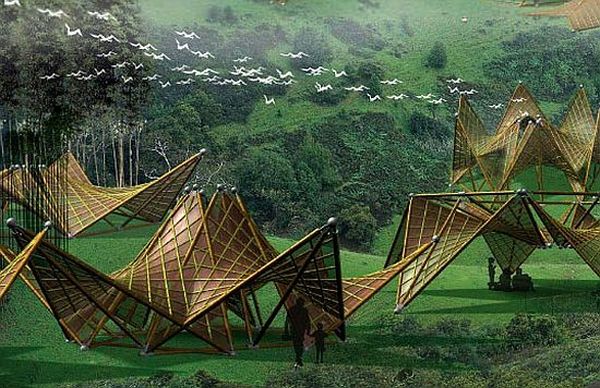 Designer Ming Tang came up with this unique structure, made from a latticework of light bamboo poles. Acting as a temporary shelter, they can open and fold away just as easy, inspired by the Sichuan Earthquake this sustainable structure would serve greatly to victims of natural disasters.
These folding shelters can form more than one shape, depending on weather conditions.
Bamboo House in Costa Rica
Designer: Benjamin Garcia Saxe
Bamboo waste and plastic bags, are some of the materials used to build this bamboo house. The roof almost like an upside down cone, covered with metal greater. The construction is open, and creates lots of ventilation with shade spots to shelter from the sun.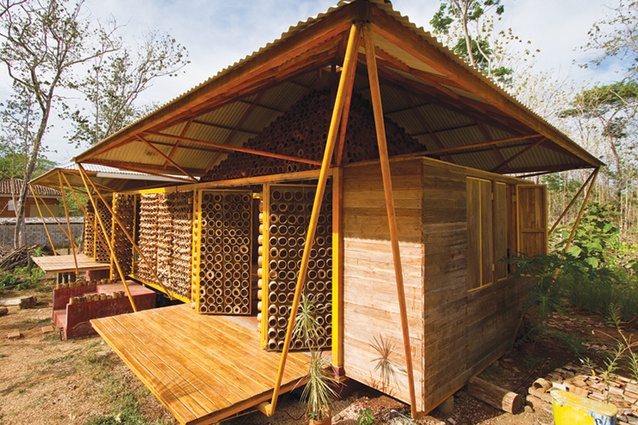 The idea for this design and construction stemmed from the architects mother. Torn apart my the hustle of the city, his mother moved to the forest in search of a haven.
Bamboo Installation
Designer: Kengo Kuma
Kengo Kuma (Japanese Architect has created these bamboo walkways and seating areas for the
Gwangju Design Biennale in South Korea.
Kengo Kuma split the bamboo into three-centimeter-wide strips to make it easy to bend, so visitors to the Gwangju Design B
iennale
can walk over or recline on the springy surfaces.
Bamboo is a common material in both Japanese and Korean architecture and Kuma used it in this installation for its flexibility and tactility.
The same design continues inside one of the galleries, where staggered sections create smaller pockets of seating space.
This installation has helped me to create my own light feature inside the cube, by developing on from the shape that the bamboo creates, I have created a pattern for a light fixture that connects to the wall with a light behind it attached to the wall.
Modern Design Bamboo and Stainless Steel Lofoten Lounge by Corey Baker:
Laminated counter-tension bamboo supports combine with stainless steel features to create a strong yet visually lightweight, striking sculptural lounger.
Ecologically sustainable and renewable bamboo (naturally oiled) is complemented by intertwined stainless steel features, making this versatile lounger ideal for many environments.
Tin - Metal
Tinplate: Sheet iron or steel which has been coated with pure tin - The tin offers a light weight, corrosion resistant finish, highly suitable for roofing and walling material.
Metal flashing through wooded uprights.
Weaving the two materials together would create strength, and is a great conductor of heat, providing more warmth in the colder parts of the year. The weave provides slots and cracks within the structure, maybe this is something that I could use to my advantage.
The slots could hold pieces of his/her work so that people passing my can read their progress.
The texture and look of the techniques is pleasing to the eye, it creates strong contrast between rough and smooth, shiny and dull. The slits in the structure creates shadows and catches the light on certain parts of the metal where it bends.
A Texture of Metal
by Kinmonth Monfreda
To open its first branded boutique in Los Angeles, Missoni has chosen to express the sense of its own identity through the architecture, design and manufacture of Marzorati Ronchetti. The building, which was designed by Patrick Kinmoth, uses interwoven aluminium sheets to cover a structure in glass, steel and cement. The effect is that of a material which protects and at the same time adorns.
I appreciate the way that the metals weave, leaving gaps and slits in random places.